Peter Miller
Personal Real Estate Corporation
Office
250-748-0320
Website
www.cowichanrealestate.ca
Cowichan Bay Office
1721-B Cowichan Bay Rd.
Cowichan Bay, BC V0R 1N1
Peter has had the good fortune of "Serving Cowichan from the Bay", since August 2010. Over this time, he has had the privilege of working closely with hundreds of people selling and buying, Cowichan real estate. His outstanding negotiating skills, from his years in media sales, combined with his hands-on renovation experience have been an ideal combination for being Real Estate.
++ see more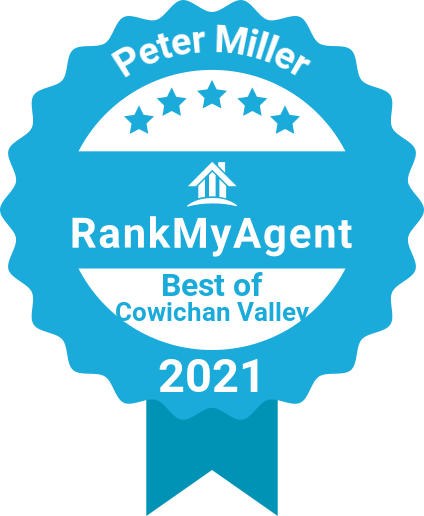 Client Testimonials
Buying a home is an investment and Peter Miller is someone you want as your advisor. Peter is honest, forthright, and an excellent communicator in all areas. Peter is up to date on the current market and is a highly skilled professional with exceptional service.
Linda Bull
April 26, 2023
From RankMyAgent.com
Peter provided a timely and efficient service in helping us quickly reach an agreed deal and navigating through to completion. He is a pleasure to deal with and offers sound counsel. We wouldn't hesistate to use Peter again on future real estate transactions.
John Garrad-Cole
April 8, 2023
From RankMyAgent.com
Peter was very knowledgeable of the Cowichan Valley and the various neighbourhoods within it where we looked at homes. He pointed out different upgrades that had been done to the properties or areas that might need addressing after a purchase.
Amber Bobby
March 8, 2023
From RankMyAgent.com
Peter was terrific and answered all our questions and was available whenever he was needed day or evening. Super knowledgeable and helpful in our first home sale. We would highly recommend him to help you with your home sale needs.
Kim Olsen
February 4, 2023
From RankMyAgent.com
Peter was extremely available and assisted me with a sense of urgency to ensure I was able to see the properties of interest, and eventually the one that I purchased. His knowledge and approach enabled a deal to be done in a short period of time.
Brian Urkow
January 25, 2023
From RankMyAgent.com
Peter immediately became a trusted confidant and advisor as we worked our way through bidding, negotiating and then eventually taking possession of our home. Once the deal was closed, we got busy with various inspections and projects and Peter continued his extraordinary levels of service and support ... beyond anything we could have imagined or hoped for. He was our eyes and ears on the ground .. and many time he was also rolling up his sleeves on our behalf. Amazing. I would use Peter again in a heartbeat.
Todd Carter
December 12, 2022
From RankMyAgent.com
Peter is courteous, personable and practical thinking. He was able to 'read' our wishes and needs and help identify objects of interest. The purchasing process was smooth thanks to his guidance. I happily recommend Peter to anyone.
Elke Cole
November 12, 2022
From RankMyAgent.com
Peter Millar was great to work with. He led us step by step through the process of selling our property and answered our myriad of questions promptly.
Patricia B
November 4, 2022
From RankMyAgent.com
Our search began Spring 2021, put on hold by bidding wars then resumed June 2022. We found Peter's knowledge, professionalism, communication skills & guidance through the process outstanding. Personally, his integrity, sense of humour & genuine warmth made him a joy to work with.
Gwynne Christie
July 23, 2022
From RankMyAgent.com
Peter was absolutely wonderful to work with, professional, patient, quick to respond, and knowledgeable. The advertising and photos Peter provided were top notch, and my listing received thousands of hits. On a personal level Peter is friendly and approachable, and I never felt I was bothering him with any of my questions or concerns. I did not have an easy listing, with added competition, market shifts, etc., I don't think I would have done as well with an average realtor. Peter handled my sale with ease, and we closed over asking. Peter treats his clients exceptionally well, and I would not hesitate to recommend him to future buyers and sellers!
Lise-Anne Coupal
June 24, 2022
From RankMyAgent.com
Peter was very patient and helpful in providing guidance through an out of province sale. Peter's guidance lead to a sale at +20% above list price. The first sale fell through on conditions outside the seller and Peter's control, but a total of 7 offers were received over the two sales.
Jim Rippon
June 23, 2022
From RankMyAgent.com
I had a wonderful experience working with Peter. I would highly recommend him to anybody looking to buy or sell their house in the Cowichan Valley
Emma Gerwing
June 23, 2022
From RankMyAgent.com
Very professional and kind took the time to answer all our questions put us at ease he made selling our house a very good experience.
Monica Zauner
May 1, 2022
From RankMyAgent.com
Peter has always been a great pleasure to work with and I recommend him whenever I get the chance. Thanks again Peter!
Mark LeGear
April 27, 2022
From RankMyAgent.com
Peter was amazing, he went above and beyond! We have never experienced such amazing service, we will definitely be using Peter again.
Jan Van Herwaarden
April 26, 2022
From RankMyAgent.com
Peter was knowledgeable and very helpful for us first time buyers. He was open to our questions and concerns, and was a great guide through the process! We are very happy in our first home and appreciate Peter's hard work throughout our time together. Highly recommend!
Ashley Allan
April 6, 2022
From RankMyAgent.com
Peter Miller is both a professional and very personable Realtor; he shows a lot of integrity, he demonstrates an easy going/witty/considerate way with people--he's trustworthy! Whether selling a home with a 5 acre property or now buying into a new Townhouse in the Cowichan Valley; having a Realtor like Peter with these kinds of skills and assets matter! In this current Real Estate Market, anybody who has Peter in their corner is lucky:) Thank you Peter~
Julie Forster
October 21, 2021
From RankMyAgent.com
Peter prove to us his professional knowledge over the Cowichan area by selling our listing at asking price very quickly compared to all our previous listing agents that were unable to. Peter was very responsive to our queries and the entire experience was a pleasure.
May Chan
October 20, 2021
From RankMyAgent.com
Peter was referred to us by multiple people. We worked with him for almost a year trying to find our perfect home, and we did. He also sold our home very quickly. He was always professional, personable, made himself available and it was nice working with him. Would definitely choose him again as our realtor.
A&D P
September 16, 2021
From RankMyAgent.com
Peter Miller was awesome to work with. Super knowledgeable, honest, ethical and very professional. We had to get our place on the market quick and Peter and his team were on top of everything and went above and beyond even after the sale. Our place sold super fast and with multiple offers. We'd absolutely work with Peter again.
Jen Mick
September 13, 2021
From RankMyAgent.com
We found Peter Miller to be very personable and knowledgeable about local real estate and construction of homes. He communicated promptly and negotiated successfully on our behalf. We definitely felt that we were in experienced hands. We enjoyed working with Peter on both the sale and purchase of our homes, and would not hesitate to recommend him.
Gillian Williamson
August 26, 2021
From RankMyAgent.com
Peter was very professional in his dealings with the other agents and showed us a bit more of his personal side in his dealings with us which made us feel well looked after. He kept us well informed of all that was happening with our listing and was always available for advice. We would definitely recommend him to any family or friends that were looking for a reliable and personable realtor.
Wendy MacDonnell
August 3, 2021
From RankMyAgent.com
Peter is friendly, down to earth, and knowledgeable. I appreciated how he kept me informed during the whole buying process. I would do business with him again!
K C
July 5, 2021
From RankMyAgent.com
Peter was great, we turned it over to him and he took care of everything. He produced a beautiful brochure for our property which we believe helped with the quick sale. We highly recommend Peter. Thanks, Peter.
Cory Paisley
June 15, 2021
From RankMyAgent.com
Peter was invaluable in helping us buy our dream home in a highly competitive market under the most dauting timelines. His knowledge of the area, combined with his professional contacts (i.e. home and septic inspectors), friendly demeanor and quick response, allowed us to have confidence in our offer and made the whole buying process as stress-free as possible. Thanks again Peter!
Jason Collier
June 8, 2021
From RankMyAgent.com
Peter is very knowledgeable about our local real estate market and very easy to work with. Thank you for an excellent experience!
Fran S
May 30, 2021
From RankMyAgent.com
Very helpful in a crazy real estate market. Was able to adapt to changing purchase parameters within the family dynamics Would use again and would recommend to others
Gary Franklin
May 12, 2021
From RankMyAgent.com
I recently selected Peter Miller to list my home for sale. I had previously listed with another agent who had promised to include staging if I listed with him so I did for about 2 weeks. (Turned out it meant 1 hr staging consultation)After several showings, not a single offer!!!! I had difficulty communicating with this other realtor so I canceled the listing. Peter Miller came highly recommended and had sold my neighbour's house previously, so in spite of now having a fear of another bad experience from what I had just been through with the precious realtor, I hesitantly decided to Re-list With Peter Miller, and might I say, "Wow!", what a difference and an absolutely went above and beyond my expectations! Not only did we put the property on the market for 40k more money than I had previously listed it for, Peter Miller had my home sold on the first showing and had interest from other families interested in back up offers!!! And for FULL Price!!!!! The closing went smoothly, and Peter and his wife work together and she would keep me informed every step of the way as the sale progressed! And, if that wasn't enough, after closing, their office had delivered the most beautiful bouquet of flowers and a gift card for a premier restaurant, thanking me for letting them sell my house! CLASS ACT! I would have to say that the advertising dollars that Peter Miller puts into creating a full color full size photo brochure of the property, video walk through, matterport professional photos he had come in for the listing and just all in all a top notch, epitome of professionalism real estate agent, all the while he himself and ensuring all people who had to enter my home adhered to strict Covid 19 procedures! If you need to list your home or need a real estate agent, I highly recommend giving Peter Miller's office a call. I do not usually write reviews but this just deserved one!!!!! Warm regards, Jennifer James
Jennifer James
February 27, 2021
From RankMyAgent.com
PETER IS VERY KNOWLEDGEABLE AND WELL VERSED IN THE LOCAL MARKET. HE IS A GREAT ASSET WHEN ATTEMPTING TO MAKE A DECISION ON A PURCHASE OR SALE
AN ALL AROUND PROFESSIONAL AND GENTLEMAN
Muriel Wenger
February 26, 2021
From RankMyAgent.com
Peter went above and beyond to make our experience as first time home buyers as stress free and easy as possible. He was diligent, hardworking, communicative, and kind. If we ever sell the home he helped us buy, we would not hesitate to use his expertise and services again. You cannot go wrong with Peter. He is an awesome person and the utmost professional.
Tiernan Cavanagh
January 21, 2021
From RankMyAgent.com
Mr. Peter Miller is an outstanding Realtor!! He is very personable and very relaxed. His no pressure attitude is wonderful and he is ready to help is anyway possible. He is ready, willing and able!! We have engaged Peter on a few real estate deals and he has been amazing!! Thank You Peter!!
Pamela and Blake Taylor
December 25, 2020
From RankMyAgent.com
I have been building and selling homes for many years but only retained Peter's services about 5 years ago. Since that time he's worked on numerous lot purchases and home sales for me and I've been very pleased with all his work. He's knowledgeable, organized and responsive. The videos and house brochures he's prepared for my home sales are first rate and professional. He's also a good, honest man so I'm confident in his professional recommendations and I always appreciate his input. I highly recommend Peter's services. Dan U
Dan U
December 1, 2020
From RankMyAgent.com
Peter Miller is very efficient, organized and respectful and responsive. He is very connected to the market and informed. He works with other professionals that have high standards of customer service too. He has represented me as well as friends of mine and I would recommend Peter and his wife/assistant Brigette wholeheartedly. They are a terrific team.
Sue Lyle
November 23, 2020
From RankMyAgent.com
When we listed our property for sale the marketing brochures were excellent in creating interest. Peter made some suggestions to improve our curb appeal which were honest and helpful. When the time came to negotiate the sale he was on-site and readily available to handle any questions and concerns. As a buyer Peter promptly responded to any requests for information about a property and to arrange showings. The market had few homes for sale so it was important to view them as soon as possible. When we made an offer he was diligent in keeping us informed of what was happening and responding in a timely manner. Very professional in his dealings with us.
Fiona Glaeser
November 23, 2020
From RankMyAgent.com
We have used Peter many times and would not choose to work with any other agent. His vast experience in the area and honed negotiation skills are second to none.
John and Jane Doe
October 9, 2020
From RankMyAgent.com
It has been 5 years that we have had the pleasure of working with Peter in transacting the sale of a condominium project from initial completion of sales to recent sales of the last units that have been invested as rental properties. Throughout that timeframe from 2015 to 2020 we have always appreciated Peter's professionalism and his friendly disposition in transacting each sale. We continue to recommend Peter as a great realtor!
SCP
October 7, 2020
From RankMyAgent.com
I would highly recommend Peter Miller as a Realtor. Peter was very professional and approachable. Peter had a very good understanding of the local market. Peter spent the time necessary to ensure I understood the process and was always open to questions. When I was looking for a Realtor, Peter came highly recommended and I can see why.
Satisfied Client
October 2, 2020
From RankMyAgent.com
We were thrilled to have Peter Miller as our Realtor when buying our home. He responded very quickly to every email, text and phone call, and gave us great advice! We bought an amazing house in the timeframe we needed and at the price we were very happy with. He works extremely hard for his clients! You won't go wrong with Peter as your realtor.
Josh Matthew
September 13, 2020
From RankMyAgent.com
We have bought and sold multiple properties over the years. Our experience with Peter was by far our best to date. His high level of knowledge combined with his high level of integrity is rare in the industry. No "games", no "sales tactics" etc. He was professional, honest and straight forward with us from the start and through to the finish. He also wasn't at all hesitant to do the "heavy lifting" when it came to due diligence on our behalf. We have recommended Peter to friends who were just as thrilled with him as we were.
Tim Thompson
August 17, 2020
From RankMyAgent.com
Peter is knowledgeable, helpful, patient, and had our best interest at heart throughout the entire process. Great communication the entire time and went above and beyond for us. Highly recommend!
Racheal Schnarr
August 15, 2020
From RankMyAgent.com
I had interviewed 6 other agents to help sell my home before I decided upon Peter Miller. Peter was outstanding in so many many ways. He was calm in all situations even when unexpected issues arose. He was never aggressive nor pushy with me in fact very patient in explaining all the documents and what needed to be done as this was my first time selling a home. His confidence and long experience made me feel really confident and trusting in what he was doing and how he could solve issues. When they did arise he took care of them by calling on his vast network of contacts to help get the right person in immediately to resolve the issue. He was always available to me and my calls at any time of the day or evening. He and his partner Brigitte went beyond the call of duty so many times, from checking on the property if it was locked properly after other agents left, to watering plants, to digging up the garden in prep for the septic and drains inspections, being there in person for the attic inspection and ensuring I got value for my money with that inspector — all just so amazing. There is something to be said by having an agent who lives in the area or nearby where you are selling. In my case it was Mill Bay in the Cowichan Valley area BC. Together they made professional signs for inside the house regarding slippery floors and take off shoes and reminders to lock up. The colour brochure was amazing as were the arial drone photos!! The thick extended brochure was also very well done. I enjoyed perusing all the on line ads he has put up. I felt so confident working with Peter and enjoyed his light, easy going, humorous, and calm manner yet determined to get the deal on my behalf. He so obviously is dedicated to his job and really loves what he does. I highly reccomend Peter and his tandem partner Brigitte very very highly if your want to actually enjoy what can be a very stressful time while selling your property. I will definitely call upon him again if the occasion arises for me to sell my next property...or to buy another one!
Elizabeth McDougall
July 16, 2020
From RankMyAgent.com
Peter is the best ! Great follow up and awesome advise during both purchase and sale of our property. Look forward to the next purchase opportunity to work with Peter & Brigitte again!
Lana Stanko
July 3, 2020
From RankMyAgent.com
We were first home buyers and really didn't know what to expect with the process but as soon as we were in contact with Peter everything changed. Peter was very kind and patient with our decisions, he offered advice and was always available for our spontaneous questions. Peter was fun and excited to get us the house we wanted which felt great. We always felt supported. I would recommended Peter Miller to any first home buyer who is looking for a home in the cowichan valley. Peter truly made the process of buying a house a positive experience. We are very happy with his work. Great guy.
Miki Hixson
June 26, 2020
From RankMyAgent.com
Peter was wonderful to work with! He is very knowledgable about the Cowichan Valley communities we were looking in. We particularly appreciated when he helped us turn away from properties that did not meet our needs. When we found the house of our dreams we were quickly in a bidding war which is naturally stressful, however Peter guided us calmly and professionally to secure the home for a good price! We can highly recommend Peter's real estate skills and he is also a nice person. We look forward to work with him again, should the need arise!
Vanda Wegner-Priest
June 4, 2020
From RankMyAgent.com
I have used Peter twice now with home sale and purchase. He is helpful, knowledgeable, and always goes that extra mile to make sure everything runs smoothly. Questions are quickly responded to, often outside normal working hours. I highly recommend Peter.
Kate Bond
May 14, 2020
From RankMyAgent.com
Peter and Brigitte are excellent at their work. Peter met with me the next day after I called him and my condo was promptly listed with an impeccable description. Peter knew my building as he lives in the area and knew some of our residents and council members. Peter and Brigitte worked with our building administrators and lawyers in a seamless way to minimize my own work. I was extremely satisfied with their service and professionalism. I highly recommend them.
Lynda Gagne
March 2, 2020
From RankMyAgent.com
Thanks to Peter Miller and his team for their expertise, clear guidance and honest opinions in preparing our family home for sale. Quick responses to our questions and coordinating third party assistance where needed were greatly appreciated.
L W
December 4, 2019
From RankMyAgent.com
Peter Miller combines equally, professionalism with personableness; he's knows his business and is a likeable, good-humoured, trustworthy person/Realtor. He was 'client-centered' and thoughtful in the way he guided the process of listing and selling our home. Peter was available for check-ins and conversations whether by phone/text or in-person. Prior to listing the house, Peter and his team provided exceptional listing services to do with home presentation and photography. Our rural property took a while to sell, yet during that time Peter remained optimistic, positive, and upbeat. It was a pleasure to sell our home with Peter Miller and his friendly team. Thank you Peter~
Julie Forster
December 4, 2019
From RankMyAgent.com
I bought and sold with Peter and he is an amazing agent. He is super knowledgable and was quick to respond to any questions or inquiries I had about the properties I was interested in. The qualities I admired the most in Peter though was his honesty, he was never afraid to tell me his opinion on a place, good or bad haha; and his great sense of humour which was much appreciated in the high stress times of buying and selling. Peter Miller is a great agent, and a lovely human being and I would recommend him to anybody looking to buy or sell.
Alexandra Gerwing
November 26, 2019
From RankMyAgent.com
Peter provided outstanding, knowledgeable and friendly service every step of the way in selling my home and in purchasing a new one. He was always prompt & reliable and gave great advice during price negotiations. I would highly recommend Peter to anyone looking to sell or purchase a new home.
Julie Harris
November 12, 2019
From RankMyAgent.com
Peter was very helpful & friendly. I became sick during the process of selling the house. Peter took steps to make the sale process easier & less stressful for me. It was very appreciated & relief for me. I would recommend Peter to anyone who is wanting to Sell or Purchase a home.
Mary-Lou Boersen
November 2, 2019
From RankMyAgent.com

Peter facilitated the sale of our house in less than a month in an area where there have not been many sales lately. He also handled the purchase of our new home negotiating dates and price that was good for us. Even though the buying and selling of a home is stressful, Peter made it as smooth as possible helped by a delightful sense of humour. We always felt he had our interests at the forefront.
Heather Best
October 23, 2019
From RankMyAgent.com
Peter was very thorough and extremely helpful in setting up my home for sale. He took his time when explaining all the details that I had to deal with to have a successful outcome. He understood the values and what I needed to do to attract a valuable vendor. He looked after all the details to make sure we had a successful sale. I have and will continue to recommend Peter and his staff to all who value his professionalism as I did.
Wendy Bone
October 20, 2019
From RankMyAgent.com
Peter was great. We were new to the area and he worked very hard with the seller's agent to sort out some technical issues with the land so that we could have comfort finalizing the purchase. Would we recommend him? Absolutely.
Paul Cumberland
October 18, 2019
From RankMyAgent.com
Peter is an exceptional real estate agent and a very nice individual to work with. I have bought and sold a home with his team, and was very happy with both experiences and would not hesitate to recommend him to my family and friends.
Angela McDiarmid
October 18, 2019
From RankMyAgent.com
Buying and selling a home has the potential to be very stressful. Peter always put us at ease by answering all of our questions and offering guidance where we needed it. Peter worked in our best interest and always respected our decisions. We are repeat clients, and have used his services to purchase two homes and sell one. I would recommend him to my friends and family.
Lindsey And Ryan Bachinski
October 17, 2019
From RankMyAgent.com
Active Listings
Recent Sales