Brad Neufeld
Personal Real Estate Corporation
Office
250-477-7291
Mobile
(250) 516-5220
Website
bradneufeld.ca
Victoria Office
#202-3795 Carey Rd.
Victoria, BC V8Z 6T8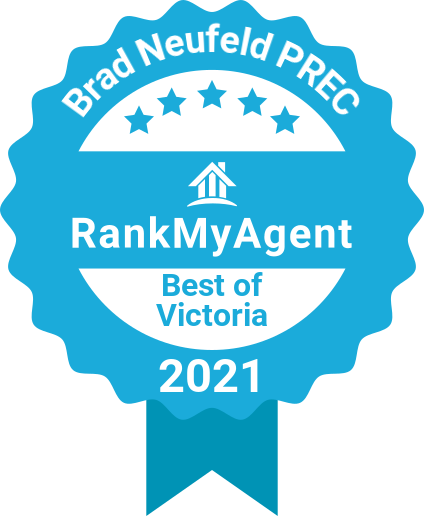 Client Testimonials
It was a true pleasure to have Brad Neufeld as our realtor - a real gentleman. He made it so easy for us. He answered all our questions, and he covered all the bases with admirable expertise in selling our condo, and buying a new townhouse. Brad's professionalism exceeded our expectations.
BRUNO B
May 3, 2023
From RankMyAgent.com
We have been working with Brad for eight years before we could comfortably sell and buy. He never pressured us but kept us updated on prices and types of properties for sale. When we were ready, he was there and he even found us a fantastic lawyer to handle both the sell and purchase. Would highly recommend Brad to anyone!!
Connie te Kampe
May 3, 2023
From RankMyAgent.com
Brad was an excellent listener and communicator for this buyer's needs. He is generous, open and patient. And he knows the area and the market well, which helped us obtain a property with near-ideal features and amenities in an outstanding location for below the asking price. Tell him what you want, and let him find you a location or a home that you may well have overlooked.
Charlotte Okada
February 3, 2023
From RankMyAgent.com
Brad is top notch and we couldn't recommend him enough! We were new to Victoria and it was also our first time buying a home so you can imagine we had a lot of questions! Brad was incredibly knowledgeable and patient throughout the entire process.  He really listened to what we wanted, helped us narrow down our search and took his time with us at every home visit.  Ultimately, it was Brad's excellent negotiation skills and network that helped us land our home in one of the most competitive housing markets!  We are beyond thrilled with our purchase in an excellent neighbourhood.  We couldn't have asked for more!
Christina Santos
October 6, 2022
From RankMyAgent.com
Purchased my property sight unseen from the opposite side of the country. Brad took me on a tour of the general area when I visited Victoria, but my home was not on the market yet. He worked with me via phone and email. Even though I waffled back and forth, he was very patient. When I finally decided to purchase he was excellent at walking me through the process long distance.
Cindy Wilson
September 29, 2022
From RankMyAgent.com
Brad was a great resource in helping me purchase my first home, especially in the crazy market of early 2022 when inventory was low and prices were high. I easily could have lost out on my condo to a higher bid price, but thanks to Brad taking a risk my offer was accepted before the owners viewed any other offers. Brad helped turn what could have been a very stressful time into a really easy process. Thanks again Brad!
Amber Scrooby
September 28, 2022
From RankMyAgent.com
Top notch service all around. Brad explained the process and provided his recommendations. He listened to our criteria and then adjusted the game plan and executed as requested
Dave MacKinnon
September 28, 2022
From RankMyAgent.com
Brad was very competent & easy to communicate with. He provided listings to our specifications & was very professional in all his dealings. We felt very comfortable with Brad & would be happy to recommend him to assist in the purchase or sale of a home. Even though we were purchasing in a very rapid market we never felt any pressure. Brad is a personable, excellent agent!
Leslie Bell
September 28, 2022
From RankMyAgent.com
Brad has been exceptional in his work with my properties. He did the research on the area and in the hybrid mobile homes I have built over the years and consistently brought strong appropriate buyers. This is a specialized market, leaning towards 55+ in a manufactured home setting. Brad's knowledge of the overall market really helped set new records for sales in this area. His professionalism and comfortable manner has made our business relationship both fun and profitable.
Walter Schmidt
September 28, 2022
From RankMyAgent.com
Brad is a real professional realtor. Understands your needs and help filter the best fit for your needs . Guided us throyght our first land purchase and introduced us to many other professionals that we needed for decission making.
Dhanula Kannangara
April 1, 2022
From RankMyAgent.com
Absolutely outstanding agent! He is an impressively motivated and knowledgable real estate agent who was there to answer all of my questions and then some, no matter what time of day. As a first time homebuyer who initially felt very overwhelmed in such an intense market, I feel very grateful to have been lucky enough to have worked with Brad.
Yves Belliveau
March 20, 2022
From RankMyAgent.com
Brad kept us very involved in the sale process, and was always available for questions. It was a great experience working with Brad.
James G
March 3, 2022
From RankMyAgent.com
Brad is without question, the best real estate agent we have ever worked with. He is knowledgable, professional, and responsive. He listened carefully to what we wanted in a home, and then put in the time and commitment needed to help us find that home. All in a very challenging real estate market.
Tim R.
December 23, 2021
From RankMyAgent.com
Brad Neufeld was very helpful in assisting us to find a beautifully situated property in the West Island, Sooke area. He did field visits with our engineers, site visits on our behalf and took care on our behalf.
Neil Sundresh
November 12, 2021
From RankMyAgent.com
Brad came highly recommended by a realtor friend of mine in Vancouver. He did a great job, gave us sound advice and was an ace during negotiations and dealing with multiple offers. Would recommend him to anyone who needs a professional realtor, he really went above and beyond.
Mathew Hunter
November 11, 2021
From RankMyAgent.com
We were pretty oblivious first-time home buyers and had a lot of questions that needed answering before we became comfortable in the process - Brad patiently took us through everything and was remarkably easy to get a hold of. He had excellent knowledge of the neighborhoods we were looking into, and was able to quickly assess our goals. We also really appreciated his honest and realistic advice about strategy for offers, and would happily and confidently recommend him to others.
Brian Gair
September 22, 2021
From RankMyAgent.com
Brad is very good at what he does. He's to the point and gets the job done. He took the necessary time to understand both what we wanted and what was possible for us, and when we found a place that fit that description he made it happen for us. He didn't let us get destructed by what wasn't viable, and, although I was annoyed at first ;) I'm beyond grateful for that. I would highly recommend Brad to those who like to cut to the chase and find a house that suits their desires and means. Thank you, Brad.
Chelsea Vaughan
September 15, 2021
From RankMyAgent.com
We appreciate how Brad is timely/prompt, extremely knowledgeable, and easy to work with. Looking forward to working with Brad in the future.
Bob Sam
July 15, 2021
From RankMyAgent.com
Brad knew the waterfront market we were after and came up with a negotiating strategy for our offer that made our offer stand out in this competitive market.
Robert Miller
July 12, 2021
From RankMyAgent.com
Very happy with the home we found and the support that Brad gave to us. Couldn't have done it without him!
Karly Goertzen
June 1, 2021
From RankMyAgent.com
Brad is a family friend of ours who had our best interests (as buyers) in mind from the start. His relationship with the selling realtor was critical in securing our offer and making our voice heard.
Morgan Honer
May 26, 2021
From RankMyAgent.com
Brad is very professional and friendly! He was quick to answer any questions and went out of his way to set up appts for viewings in this crazy market.
Brenda Joynson
May 26, 2021
From RankMyAgent.com
Trustworthy, energetic, and insightful. Brad is willing to do what it takes to find the home that is right for you. He gets to know what you're looking for and will adjust as needed and as the market changes. He is able to give accurate valuations on properties even in multiple offer situations and this helps to avoid making offers that you may regret.
Tom Brown
May 5, 2021
From RankMyAgent.com
Brad was able to get us a great home in a great location under asking price. We were open to a large area of the island and appreciated that he serviced and seemed knowledgeable about a large area. He went above and beyond in assisting us and took the time to figure out exactly what we wanted in a home. His responses were timely and he worked with us with questions post purchase as well. We'd recommend Brad to all our friends and family.
Ryan Clark
April 21, 2021
From RankMyAgent.com
Brad is knowledgeable, confident and a skilled negotiator. With Brad's help we secured a sale that met all of our needs and exceeded our expectations.
Cory Bargen
April 18, 2021
From RankMyAgent.com
Recently I had the pleasure of working with Brad to purchase a condo. He is very knowledgeable, professional and diligent with his work. I have worked with other realtors whom took significant time to obtain crucial information resulting in the loss of a purchase. With working with Brad was a very enjoyable experience having no real insight on purchasing a property he made it very simple for me, explaining different parts of the contract, being available through phone calls, text messages and emails with quick valuable responses. When time is of the essence Brad was on top of it. I have no problem recommending his services to my family and friends and also look forward to purchasing another property in the future.
Christopher Bradbury
March 8, 2021
From RankMyAgent.com
To write a review of our experience with Brad, it's difficult to find the right words - that haven't already been said. Professional, thorough, prepared, diligent, focussed, responsive, patient, exceptional, effective and personable; it seems like all his clients have very similar experiences. We strongly agree with all that has been said by them, but for us, the quality that we most valued was his equanimity. While we rode the emotional roller-coaster of preparing, listing, showing, offers and counter-offers and final sale, he maintained a steady, even keel. His balanced guidance helped us make the best decisions for every aspect of our purchase and sale. It goes without saying that he will be the first call we make, if we make any more moves. We would strongly recommend anyone approaching a real estate transaction in Victoria to work with Brad.
Mamik and Sandy Johnson
March 6, 2021
From RankMyAgent.com
Brad is very knowledgeable, straight forward, quick to gather information regarding the condo I purchased while using his services. I have worked with other realtors whom took significant time to obtain crucial information resulting in the loss of a purchase. Any questions I had he was right there to help me through the whole process even when I messaged him early in the mornings and on weekends. He is a very dedicated individual to his career and also to his family. I have recommended him to members of my family and friends without any hesitation and most defiantly look forward to working with him again. When I purchased my condo he had comparable properties at the ready and was able to negotiate a better deal then I had hoped for.
Christopher Bradbury
March 5, 2021
From RankMyAgent.com
Brad was extremely communicative and definitely well versed in the local market. He understood what we were looking for in both neighborhoods and home features. We viewed numerous properties and the home Brad said he felt this was "the one" is where I am writing this review from. I would recommend Brad to anyone looking to navigate the Victoria market and have a smooth buying process.
Randy Wetmore
January 7, 2021
From RankMyAgent.com
We were very happy with Brad's expertise in assisting our family with the sale and purchase of our homes. Right from the first meeting with Brad we found him very personable and professional and felt comfortable with having him as our realtor. Brad always returned calls and messages in a timely manner and was very patient with our questions in what can be a very stressful time. Brad kept us informed of all aspects related to the selling and buying of our homes. He is very knowledgeable of all the steps associated with the sale and purchase process. Brad kept us calm during a trying time! We would not hesitate to recommend Brad as an exceptional realtor to our friends, family and colleagues who may be selling or purchasing a home. We certainly would use Brad as a realtor again!
Sian Nuttall
November 10, 2020
From RankMyAgent.com
Brad stuck with me over a long period of looking for the right place which met my needs and budget. He was always upfront and had many contacts to assist when needed. Thanks Brad.
Jerry Dardengo
October 26, 2020
From RankMyAgent.com
Brad was exceptional in helping us with our move from Ontario to Victoria. From the start, even though we were months out from purchasing a home, Brad was in contact with us and assisting in our search. When we were in town, he took the time to meet with us and discuss our needs. When the time came to make our purchase, Brad was knowledgeable on the properties and gave sound advice. With his good guidance we managed to buy the home of our dreams within our budget. Thank you Brad for outstanding and excellent service.
Debbie Scrooby
October 24, 2020
From RankMyAgent.com
Brad is an amazing realtor that made our dreams come through. We have been working with Brad since 2013. He was instrumental in getting us our first home, then sold it and got us to our second home. He is always available and takes time to listen to our wants vs needs, even when we were not in the market to purchase or sell. Great guy and you will never go work with choosing his service.
Dean Forbes
October 19, 2020
From RankMyAgent.com
Brad was an excellent realtor for both the sale of our house and the purchase of our new house. Both transactions occurred in July 2020, and we were impressed by Brad's knowledge and skills of negotiation and marketing. One of his greatest abilities is to effectively communicate realistic expectations to both ourselves and the other parties, in terms of pricing, timing, and terms/conditions. Thanks Brad for your excellent service.
Doug Makaroff
October 19, 2020
From RankMyAgent.com
Brad is amazing to work with. He has has great work ethic, knowledge of the island and his negotiation skills are great. He is very personal, and listens to what the client wants. He will always be my agent as long as he is one.
Rob Hanze
October 17, 2020
From RankMyAgent.com
Brad was great to work with! He has a very calming presence, and we found him to be especially patient with us. He was available at all times to answer every question we had, to explain anything that we did not understand, and to rationalize each new scenario we brought forward to him. Brad was key in helping us negotiate, and overall, a very valuable person to help us navigate as first time home buyers. We highly recommend Brad and would not hesitate to work with him in the future.
Lindsey Main
October 6, 2020
From RankMyAgent.com
Brad was great to work with especially as first time home buyers. He had great communication and let us know what was going on every step of the way.
Chelsea Wigle
September 25, 2020
From RankMyAgent.com
Brad was such a wonderful person to work with. Very patient as we took over a year to make the perfect choice to purchase. His knowledge of the greater Victoria market is what sets him apart from everyone else. We moved from the mainland and were looking for A home that was difficult to find. He nailed it!
Garth Buchko
August 24, 2020
From RankMyAgent.com
Brad was an outstanding real estate agent for us during our 4 year house hunting process. Yes, 4 years! We were moving from out of province and started the process of finding a home very early and Brad went above and beyond to help us in our search. He was very knowledgeable about neighborhoods and considered our needs/desires; he viewed homes for us; he stayed in contact with us throughout the 4 years with patience and kindness; he was always professional and personable. We would highly recommend Brad as a real estate agent and without question will contact him when we need an agent. We are so happy with the house he found for our family that it won't be anytime soon!
Colin & Sara Taylor
August 20, 2020
From RankMyAgent.com
Brad helped us through the process of buying a home from the beginning and helped us to find a beautiful house which we didn't think we could afford initially. We looked at a number of other places and was able to go through pros and cons of each property and neighbourhood to help us decide. Would recommend Brad to others for sure
Harley Syyong
August 5, 2020
From RankMyAgent.com
We are so thankful to have worked with Brad. The selling and buying process was a difficult and challenging process for my husband and I due to personal circumstances. The entire process took 2 years for us to fully decide what we wanted and what would work for our family. Brad stuck with us through the whole process and understood our circumstances. He was never pushy or unprofessional and offered guidance when needed. I would 10/10 recommend Brad to all of our friends and family.
Brianna T
August 5, 2020
From RankMyAgent.com
My wife and I have known Brad Neufeld for four years now. Brad was the listing agent of the condo we bought on Bear Mountain Parkway a few year back. When we met him we found him to be very personable and knowledgeable of the real estate climate. So much so that we hired him to sell our single family dwelling for us in Colwood. During our two year stint at Bear Mountain, Brad remained in contact with us to keep us apprised of the market and other opportunities. When the right opportunity was presented to us we hired Brad once again to sell our condo and represent us with the purchase of a new construction town home on lower bear mountain. We would not hesitate to recommend Brad to any friend or family member who is looking for an outstanding reliable realtor to represent them with their real estate transactions.
Scott Davidson
August 4, 2020
From RankMyAgent.com
Brad's experience and knowledge of the island was helpful for us as newcomers to BC. Brad gave us lots of information and his personal insights with regards to all the municipalities as well as the weather in the various regions. Brad did his best to understand our requirements and gave us suggestions on various properties that would best match our "lifestyle" to home and neighbourhood.
Daryl Sheridan
August 3, 2020
From RankMyAgent.com
Brad has a no-pressure approach when assisting with the sale and purchase of a home. He was always available to answer our questions as they pertained to market value, recent sales, etc. We really appreciated Brad's ability to provide prompt feedback on our showings and for organizing viewings for us. His great service was pivotal in leading to the successful sale of our home and a seamless transition into our newly purchases home. Thank you Brad for your awesomeness!
Nancy Young
August 3, 2020
From RankMyAgent.com
Brad was a huge asset to the sale and purchase of our home. Brad was always available, knowledgeable and above all extremely patient with my husband and I as we searched for our new home in a fast-paced and competitive market. Brad helped coordinate dozens of showings in a variety of neighbourhoods to ensure we were 100% confident in our purchase. Not only did we get top dollar for the sale of our home, Brad was able to help negotiate an amazing deal on the purchase of our new property. Through every step of the process, Brad kept us informed, communicated frequently and made it all seamless for us. Above all, we trusted Brad and were reassured that our best interests were at the front and center through it all. In short, we would absolutely work with Brad again in the future!
Caley H
July 31, 2020
From RankMyAgent.com
Active Listings
Recent Sales